SHOW NEWS AND PICS

BIG NEWS !!!!!!!!!!
CH. PAPAW TAILWIND HAT TRICK(BUNNY)
***BUNNY COMPLETED HER CHAMPIONSHIP IN NOVEMBER, 2007 AT THE FORT WAYNE CLUSTER. SHE WAS WINNERS BITCH ALL 4 DAYS AND BEST OF BREED FROM THE CLASSES UNDER MICHELLE BILLINGS ON THE LAST DAY FOR HER THIRD MAJOR. BUNNY DEFEATED THE NATIONS TOP BEARDIES FROM THE CLASSES.*****
BUNNY WENT DOWN TO THE LOUISVILLE CIRCUIT AND WON HER 6-9 CLASS EVERY DAY AND THEN TOOK A MAJOR FROM THE 6-9 CLASS ON SUNDAY. THE JUDGES KNEW QUALITY WHEN THEY SAW IT. TAILWIND PAPAW SHOCK`N BEYOND ALSO RECEIVED TWO MAJORS IN LOUISVILLE.
BUNNY(MAJOR POINTED FROM THE 6-9 CLASS)
AT 12 MONTHS OF AGE BUNNY NOW HAS BOTH MAJORS !!!!!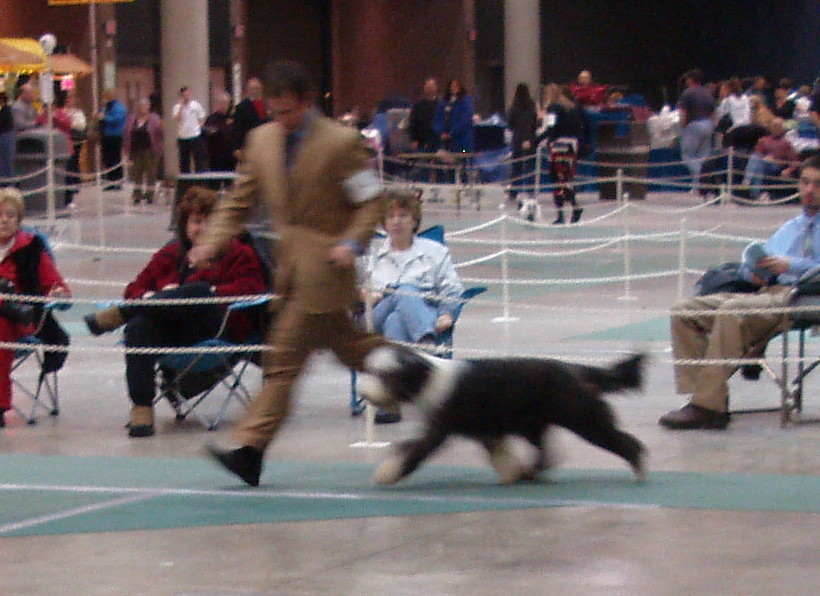 FLEECY ( PAPAW TAILWIND CHASE THE ACE)
IN LIMITED SHOWING FLEECY IS DOING QUITE WELL. HE IS MAJOR POINTED AND IS A BOB WINNER FROM THE CLASSES. FLEECY HAS REALLY LOVELY BREED TYPE AND GORGEOUS MOVEMENT. FLEECY IS A JOKER/OLIVE DAUGHTER BRED TO A LEX SON.
HIS PEDIGREE IS QUITE OUTSTANDING !!!!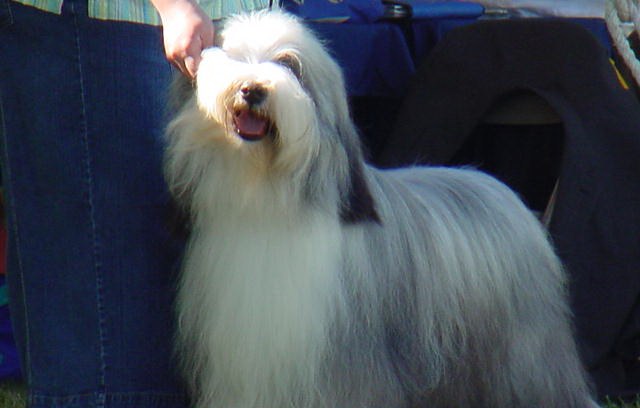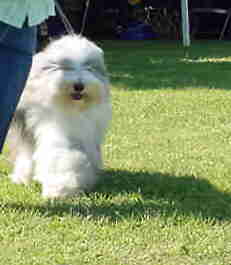 PICTURED BELOW IS THE BEAUTIFUL TOBY, CH. PAPAW TAILWIND HOW DO YOU LIKE ME NOW
!!!!!NEWS FLASH!!!!! TOBY WINS WD, AND BOW FOR A 5 POINT MAJOR AT THE BALTIMORE COUNTY SUPPORTED ENTRY IN APRIL OF 2007, UNDER RESPECTED BREEDER JUDGE TOM DAVIES !!!!!!!!!!
(IVY X AARON SON) PICTURED IN THE RING THE DAY HE WON ANOTHER BEST OF WINNERS. TOBY HAS ALSO WON BOB FROM THE CLASSES. TOBY IS OWNED BY KATHY BARBARITZ AND PAPAW BEARDIES.
THIS IS BUNNY SHOWN WINNING BEST OF WINNERS AT THE TENDER AGE OF 7 MONTHS.BUNNY IS KNOWN AS PAPAW TAILWIND HAT TRICK. BUNNY IS OUT OF IVY & SKYLER(CH. RAINTREE HA`PENNY BEHAVING BADLY) BUNNY IS OWNED BY PAPAW BEARDIES